3E Energy Elixir and the effect on human physiology
8 Ingredients enhance energy

6 Ingredients provide a mechanism to maintain healthy weight

6 Ingredients support heart and vessel protection
9 Ingredients assist mental alertness

6 Ingredients support a healthy lifestyle with

normal blood glucose levels

6 Ingredients promote a healthy immune system function
2 Ingredients reduce the desire for food

Ingredient provides a calming mechanism
The ingredients: Yerba Mate, Guarana, Coffee bean, Vitamin D, Magnesium, Vitamin B-3, Vitamin B-6, Vitamin B-9 and Vitamin B-12.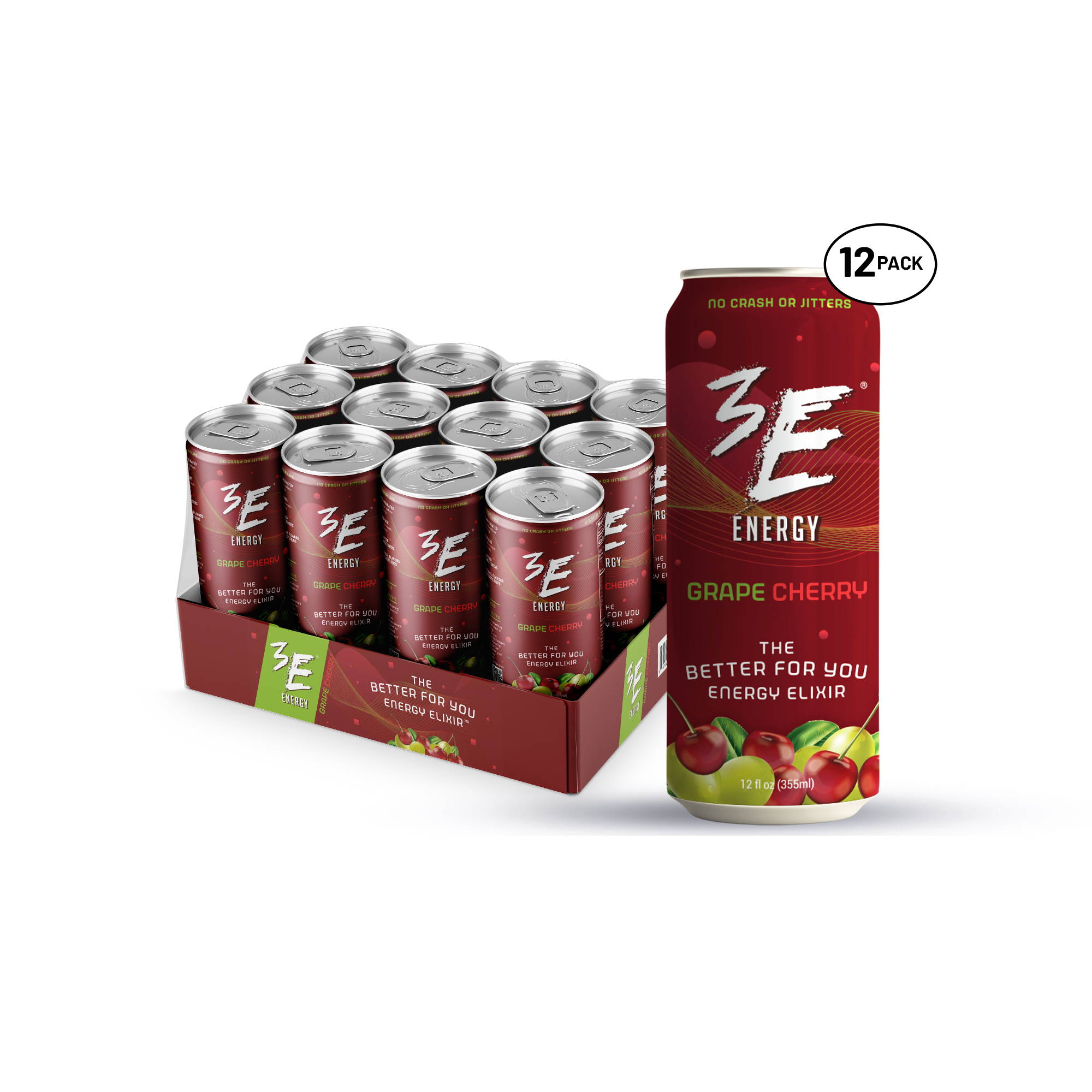 Crafted for sustained energy
At 3E Energy, we understand that energy is more than just an instant boost; it's about maintaining a vibrant rhythm that aligns with your body's natural balance. That's why we've meticulously crafted our formula to be in sync with your day-to-day needs. Our energy drink ingredients are sourced to provide a refreshing mix that powers your body while nourishing it from within.
3E(R) Energy offers a unique formula that energizes the human body while supporting optimal conditions within the body and mind. Such conditions include helping to control appetite without the threat of heart or blood vessel damage, not causing blood sugar levels to run rampant, avoiding forgetfulness of mind, and deterioration of the immune system. 3E(R) produces conditions opposite from so many other energy drinks.
We've referred to over 360 peer-reviewed scientific studies from a range of certified research institutions globally to substantiate our claims. This includes our 500+ page manual that focuses on 3E ingredients and their physiological benefits to human beings.
All studies were resourced from international peer review access sites such as Pub Med or from nationally recognized universities or medical facilities. This statement is not evaluated by the Food and Drug Administration. This product is not intended to diagnose, treat, cure, or prevent disease.
Each energy drink ingredient in 3E Energy has been chosen for its unique properties and health-related benefits. Each component works synergistically, promoting sustained energy, enhanced focus, and overall vitality without the usual drawbacks found in conventional energy drink recipes.
Unleashing the power of nature with 3E Energy's nourishing ingredients
The energy drink ingredients in 3E Energy are carefully chosen to provide the best possible taste and benefits to your body and mind. Let's explore the unique benefits of each ingredient:
1. Yerba Mate — The powerhouse of antioxidants
Yerba Mate goes beyond merely boosting your energy and mental focus. It's a goldmine of antioxidants and nutrients, with properties that enhance physical performance and protect against infections. Yerba Mate can also aid in maintaining optimal blood sugar levels.
2. Guarana — Boosting focus and overall health
Guarana is rich in antioxidants, enhancing focus and reducing fatigue. This remarkable plant also supports healthy digestion. Guarana's benefits include the potential to boost heart health and aid in weight management.
3. Green Coffee bean — Powerful antioxidants for overall wellness
Our green coffee beans are a potent source of chlorogenic acid, a polyphenol with numerous benefits. This antioxidant helps reduce anti-inflammatory properties that may help relieve mild inflammation.
4. Vitamin D — For strong and healthy bones
Vitamin D plays an essential role in the body's absorption and retention of calcium and phosphorus, which are crucial for building and maintaining strong bones.
5. Magnesium — Essential for vital bodily functions
Magnesium is the behind-the-scenes hero that keeps your body functioning at its best. It plays a vital role in regulating blood sugar and blood pressure levels, optimizing muscle and nerve functions, and increasing protein production.
6. Vitamin B3 — A vital booster for your brain and skin health
Vitamin B3 has wide-ranging benefits, from improving blood fat levels and potentially reducing blood pressure to enhancing brain function and skin health.
7. Vitamin B6 — Your defense against anemia
Vitamin B6 is a potent weapon against anemia and can significantly improve mood. Its benefits also extend to promoting brain and heart health as well as easing nausea during pregnancy.
8. Vitamin B9 — A pillar for brain function
Vitamin B9 plays a pivotal role in maintaining brain function, energy levels and contributing to mental and emotional health. It's not just a vitamin; it's a crucial component for maintaining a healthy mind.
9. Vitamin B12 — The lifeblood of healthy cells
Vitamin B12 is a vital player in keeping your body's blood and nerve cells healthy. It's also an effective guard against megaloblastic anemia, a blood condition that can lead to tiredness and weakness.
Ready to experience the 3E Energy Difference?
Transparency is at the core of our approach at 3E Energy. We believe you have the right to know exactly what you're putting into your body and the potential impact it can have.
So, what are you waiting for? This is your sign to experience the unique blend of energy, health, and vitality that 3E Energy offers. Replace your regular energy drinks with our healthier alternative and see the difference in your overall well-being and vitality.
Shop the range today to feel the power of nature in every sip — and enjoy long-lasting energy without the crash.